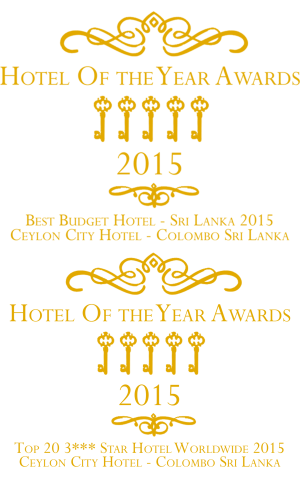 Ceylon City Hotel has been adjusted as the 'Best Budget Hotel' in Sri Lanka for 2015 by Hotel of the Year Awards.
The Hotel of the Year Awards recognizes and rewards hotels and spas that deliver exceptional levels of service and world class facilities to its guests.
Ceylon City situated at Upatissa Road, Bambalapitiya is one of the least hotels to join the Sri Lankan hospitality industry.
"The Ceylon City Hotel is a very special budget luxury hotel that anyone visiting Colombo should consider staying in as it gives guests that VIP treatment always for a great room rate that makes for a truly wonderful hotel experience. We were proud to honour The Ceylon City Hotel with the title of Best Budget City Hotel Sri Lanka 2015 and for it to also secure a Top 100 Hotel Worldwide is a testament to the hard work and attention to detail that UlfathUwais and his team put in every day for their guests" said Ian IanWhitty, Director & Chief Judging Officer 2015 Hotel of the Year Awards.
"We are happy to have won the award for the Best Budget Hotel in Sri Lanka and this award truly reflects who we are. We always wanted to be the leading budget hotel in Sri Lank where guests can enjoy exceptional service and quality for a very reasonable price. We are happy to have won this prestigious award from Hotel of the Year Awards" said UlfathUwais, Managing Director of Ceylon City Hotel.
Ceylon City Hotel is also named as one of the 'Top 100 Hotel's Worldwide 2015' and as one of the 'Top 20 3 Star Hotel's Worldwide 2016' by Hotel of the Year awards.
Ceylon City Hotel also won the Trip advisor Travellers Choice Award 2016 and is a current nominee for World Luxury Hotel Awards & World Travel Awards 2016. Ceylon City Hotel was also nominated for World Travel Awards 2015.