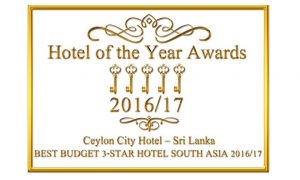 The Hotel of the Year Awards which recognizes and reward hotels and spas that deliver exceptional levels of service and world class facilities to its guests has announced that Ceylon City Hotel has been adjusted as a winner for the second consecutive year as Best Budget Hotel South Asia for year 2016/17.
Last year Ceylon City Hotel was choose as Best Budget Hotel in Sri Lanka and this year taking a step higher they have been awarded as the 'Best Budget Hotel in South Asia'.
Hotel of the year awards rewards hotels and resorts based on the service and facilities hotels offer guests and they research past guest experiences and comments on their stays on hotel and travel websites to get an overall feel for guest experiences. Reviews on sites like Trip Advisor, Booking.com etc.
Ceylon City situated at Upatissa Road, Bambalapitiya is one of the latest hotels to join the Sri Lankan hospitality industry. Comprising of 3 type of room categories all of Ceylon City hotel's rooms comprises of modern facilities with King Size Beds, Mini Bar, 32 LCD TV with satellite connection, Air Condition, Spacious Sofa, Coffee Table, TV Table, Dressing Table, Hospitality tray with tea coffee making facilities and free Wi-Fi in all rooms and public locations making it a perfect choice for Business and Leisure travelers.
In addition to these facilities Ceylon City also has 24-hour room service, very spacious Restaurant that also can be used for special occasions, conference hall and a very unique eye catching lobby and a coffee shop.
"This is once again a very special moment for us. Having chosen as the Best Budget Hotel- South Asia means a lot of us and proves our level of service and quality of our hotel. It also makes us immensely happy to be chosen as a winner for the second consecutive year and especially a step ahead of last year's title from being Best Budget Hotel in Sri Lanka to now as Best Budget Hotel in South Asia. This shows that our level of service and quality  has been increased from previous year and keeps on improving" said Ulfath Uwais, Managing Director of Ceylon City Hotel.
"The Ceylon City Hotel is a very special budget luxury hotel that anyone visiting Colombo should consider staying in as it gives guests that VIP treatment always for a great room rate that makes for a truly wonderful hotel experience. We were proud to honour The Ceylon City Hotel with the title of Best Budget City Hotel South Asia 2016/17 and for it to also secure a Top 100 Hotel Worldwide is a testament to the hard work and attention to detail that Ulfath Uwais and his team put in every day for their guests" said Ian Ian Whitty, Director & Chief Judging Officer Hotel of the Year Awards.
Apart from the Hotel of the year Awards, Ceylon City Hotel won the prestigious 'World Luxury Hotel Award for year 2016' along with 'Trip Advisors Travellers choice' award for 2016. Travelmyth.com website named Ceylon City Hotel as one of the Top 5 '3 star hotels in Colombo'.